High Wear Resistant Steel- Hardox 500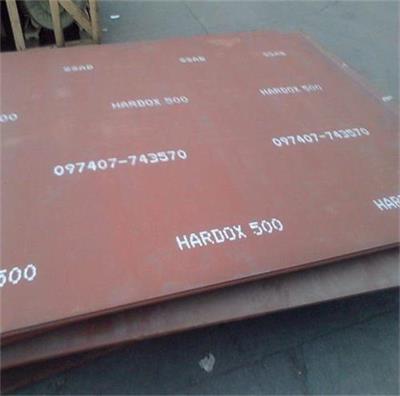 The combination of strength and hardness in wear resistant steel plates makes them stand up in tough environments, which call for a high degree of abrasion or wear of the steel plate.Wear resistant steel is used in areas where there is likely to be a high degree of abrasion or wear of the steel plate. The key quality for wear resistant steels is their hardness.
Chemical Composition&Physical Properties
C
≤ 0.32
Hardness (BHN)
370-430
Si
≤ 0.70
Mn
≤ 1.60
Yield Strength(MPa)
1000
P
≤ 0.025
S
≤ 0.010
Tensile Strength(MPa)
1250
Mo
0.6
Ni
1.5
Elongation (%)
10
Cr
1.4
Bo
≤ 0.004
Our advantage
:We are a leading supplier of Hardox 400 / Hardox 450/ Hardox 500 plates in thickness ranging from 4mm to 100mm. Hardox 400 plates have a typical hardness of 400 BHN. Excellent weldability, impact strength and bendability are key features of wear resistant Hardox 400 steel plates.
Apart from standard length and width Hardox 400 / 500 sheets and plates, we also supply cut to size profiles as per drawings provided by our customers.
For more information on Hardox 400 / Hardox 450 / Hardox 500 steel plates, please contact us.
Market Served
: Power Generation, OEM, Steel Mills & Foundries, Cement/Concrete Plants, Construction, Mining, Earthmoving Machinery & Equipment
Applications: Construction machinery, conveying plants, dumper troughs/liners, crushing plants, loading machines, dredgers, trucks, tippers, cutting edges, trucks, excavators, knives, breakers, liners.
Application:
Cement Industry, Mining Industry, Fabrication Industry